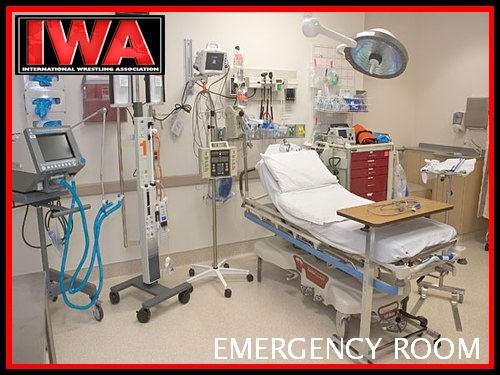 *The tron lights up and a recorded segment from last week's live IWA Termination show is aired where Sarah Lane stands in the recovery room with The International Champion, The Hysteric after his match with Daniel Mayers. He stands emotionless looking in the mirror ever so often glancing down at his coveted International Championship as the Doctor puts 4 staples in his skull. The roar of the fans can be heard from down the hall*
Sarah Lane: "Hysteric, you have been on a path of tyranny ever since you made your return in Season 2 after being buried alive by TDG the season before. What changed and why? What are you hoping to achieve with all of this and when will it end? I mean look at you, you put your body through complete hell week in and week out for what? To make a point?"
*The Hysteric laughs slightly and Sarah Lane winces at the loud sound of the staple gun as the staple makes a crunching noise entering The Hysteric's skull*
The Hysteric: "End? This doesn't end. The story I am writing has no end Sarah, just a new beginning."
*Sarah Lane looks on confused*
Sarah Lane: "What do you mean?"
The Hysteric: "Let me take you back to Season 1 Sarah where the story began, where The Hysteric was just a nickname and I was known as a bright young rising star by the name of Corbin "The Hysteric" Smith. I came to IWA like any other rookie would have who just signed his first deal with a major wrestling label. I was ecstatic, I was aspiring for great things, I was... unprepared."
*The Doctor wipes the blood from The Hysteric's head before he continues*
The Hysteric: "I went on to face The Depraved Giant who at the time was undefeated, he was just getting started on his monstrous reign over the IWA. I was nothing, just a rookie who was green as grass and who wanted to make a name for myself, and I did. In all the wrong ways, I didn't just lose to TDG and become another notch on his belt, I was the one, the only one who he buried alive and set on fire. People remembered our match. Hell some thought I had died, and in some ways I had."
*Sarah Lane looks intently to The Hysteric who looks down at his title*
The Hysteric: "I was crushed, I had no idea what I was going to do after that loss and then something came to me. Call it a ray of hope, but it changes a man. I came back with a "One Last Try" attitude with one incentive, this right here..."
*The Hysteric holds up his International Championship for the camera to see*
The Hysteric: "The coveted IWA International Championship... and I went on to win the first ever Rising Star Tournament beating out 6 other guys in the process in order to earn my spot in the War Games II title match where I went on to become the International Champion but it wasn't just mine, I had to share that title with Skurge when we tied with a double pin, and even that wouldn't last long. As I was celebrating my victory, Taylor Tank cashed in his CITC and pinned Skurge and stole my prized possession right out from under my nose. I was furious, I was pissed... I was motivated. I had tasted Gold and I liked it. I wanted more."
*The Doctor goes around The Hysteric and begins plucking broken glass and tacks from his back*
The Hysteric: "And I got more, I earned my way into the CITC Ladder Match beating out the Chosen One and went on to win that match after knocking our current Unified Termination Champion, Bford off of the ladder in the final nail biting moments sending him 20 feet down into the mat and staking my claim to fame."
*The Hysteric grunts as a tack rips from his skin*
The Hysteric: "I had finally proved my success and greatness was no fluke, unless you call flukes winning the big ones week in and week out. I had forever cemented my name into the IWA history and record books but I didnt stop there, I went on to defend my International Championship and have the longest title reign in IWA history aside the Heavyweight Champion Romulus, You see there is a point where reigns become Era's and Era's become Legacy's become Legend's and that is what The Hysteric is going to accomplish, and THAT is why I put my body on the line week in and week out, high risk comes with high reward. I don't do this for those fools out there, they can hate me or love me because either way they are buying tickets to see me, and if they arent their friends and family ARE. I do this all for ME."
*The Hysteric winces as The Doctor pulls the last of the broken glass and tacks from his body*
Sarah Lane: "Well what do you have to say about your match and fallout with former Nest member Daniel Mayers earlier tonight?"
The Hysteric: "Daniel, Daniel put me through hell tonight that is undeniable, he came out on top as far as the Win/Loss records are concerned but the real war was won by Me. You see Daniel Mayers was at the top of a long list of people who are aiming diligently at the target on my back, but now after tonight the only thing he will be aiming at is the center of a bed pan when he rolls over to piss tonight in the emergency room. Daniel put it all on the line earlier and it got him the win but it also got him a comfy seat to watch the PPV from in three weeks time."
Sarah Lane: "And what about the sudden change in the tides? You looked as if you seen a ghost..."
*The Hysteric grows a crazy look on his face and grabs Sarah Lane by the shoulders looking into her eyes*
The Hysteric: "You had to have seen him too! I almost thought..."
*The Hysteric shakes his head and lets go of Sarah Lane*
Sarah Lane: "Seen who? What are you talking about? Hysteric?"
*The Hysteric turns away and puts on his shirt before picking up his International Championship and slinging it over his shoulder*
The Hysteric: "I thought I seen something.. or someone on the ramp there earlier but it was probably just the concussion, we did go all out tonight... yeah it had to have been..."
*The Hysteric clenches his eyes shut hard and shakes his head before walking away as the tron fades to Rhys Trebian and Ken Comaro on commentary this week*
Ken Comaro: "Seems The Hysteric was a bit, Hysterical last Saturday?"
Rhys Trebian: "What are you talking about Ken?"
Ken Comaro: "Well, he had that match won that night, it was in his hands and then well, you seen. He just got out of the ring and chased air up the ramp. His face was mortified as if he had seen a ghost."
Rhys Trebian: "What are you trying to say Ken?"
Ken Comaro: "Maybe The Hysteric is losing it thats all. Probably why he isnt here this week."
Rhys Trebian: "No whats happening is all of this Revolution and Alana pressure has gotten to The International Champion and he did the smart thing and took the week off, besides you heard him, he just hit his head last week thats all."
*Ken Comaro rolls his eyes as the show heads out to commercial*