*IWA comes back in from break and Unstoppable by TobyMac hits and the arena is filled with boo's immediately as Matt Lebleux struts down to the ring with a smug look on his face, he smiles deviously as he enters the ring and receives a microphone*
Matt Lebleux: "Ever since I became GM of IWA I have been devising all of these ways to gain more viewers thus increasing the revenue we bring in and ultimately the cash."
*Matt Lebleux rubs his fingers together signaling money*
Crowd: "What?!"
Matt Lebleux: "And tonight I unveil something new, something big, something great!"
Crowd: What?!
Matt Lebleux: "What if, there was a way to weave out the strong from the weak, the destined for greatness from the destined to fail? Well tonight that "what if" will become a reality!"
Crowd: What?!
Matt Lebleux: "Tonight 6 IWA Originals, 6 IWA Pro's will take 6 newly signed IWA rookies under their wings for the duration of this season and they will teach, learn from and guide these 6 men in hopes of making one of them the Next IWA Rising Star!"
*The fans cheer breaking the chain of "WHAT" chants as they grow anxious*
Matt Lebleux: "The competition will take place for 5 weeks, ending at our next PPV where the two finalists will compete in a Steel Cage match for the title of the Rising Star Tournament Winner. Bragging rights over all other rookies and a future International Championship match."
*The fans slowly stand up as they grow restless, ready for the competition*
Matt Lebleux: "So without further adieu, lets take a look at the Rookies!"
*The fans cheer as Matt Lebleux points to the stage*
Matt Lebleux: "The gifted MMA fighter from California, The Croooooowing!!
*The fans cheer wildly as loud rock music plays and The Crowing steps out onto stage and begins walking to the ring*
Matt Lebleux: "Next up from Chicago Illinois, he is the younger brother of former International Champion and previous Rising Star winner, The Hysteric, Cooooooody "The Lightning" Smiiiiith!!"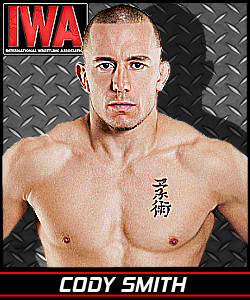 *The fans boo as The Lightning steps out onto stage and grins evily and walks down the ramp reaching for fans and pulling away before they can touch him. He laughs and enters the ring*
Matt Lebleux: "And next, from a local bar in New Mexico, He is the IWA Drunk, Caaaaaameron Neeeeeds!!"
*The fans cheer and many hold up their beer bottles as Cameron Needs stumbles out grinning and saunters down to the ring crookedly*
Matt Lebleux: "Number four, weighing in at 207 lbs and standing at 5'10 Chriiiiiis Spaaaaaaarks!!"
*The fans cheer as Christopher Sparks steps out on stage and spins around before running down to the ring*
Matt Lebleux: "And lastly from Bear River, Nova Scotia he is the Giant, the Deadly, Rooouuuuuusssimooooooffff!!"
*Bad Seed by Metallica plays and the fans cheer loudly as Roussimoff steps out on stage and begins walking to the ring towering over everyone with a great difference in his stature. He enters the ring and the men exchange looks as the fans quiet down and his music fades*
Matt Lebleux: "Ladies and Gentlemen give it up for your IWA Season 7 Rookies!"
*The fans cheer loudly and stand up clapping as Matt Lebleux holds up a finger signaling as if he's not finished*
Matt Lebeleux: "Now, for the most important part of these men's career to date, let's find out who has signed up to be their Pro's!!"
*The crowd begins to boo as Mr.Mexico's music hits and he steps out towards the ring with a big smile on his masked face*
Mr.Mexico: "Hey Crowing, listen up kid, I know that everyone here is scared of that oversized teddy bear Roussimoff or whatever his name is but I can see you got potential to be a champ just like me, so lets get down to business, time to train!"
*The Crowing smiles and jumps over the ropes and out of the ring with Mexico as Roussimoff stands angrily watching Mexico leave with a clenched fist*
Matt Lebleux: "There's The Crowing gone so 4 more of you rookies to choose from."
*Flirtin with Disaster blares in the arena as the fans begin to cheer and Mr Mexico stops in his tracks looking around frantically for Hurricane Earl. The tron lights up and Hurricane Earl Lockyer is standing grinning in frame as he looks down at Mr Mexico then to the ring*
Earl: "You know what? I like this Rising Star idea, but I have bad news for all the other pro's here tonight, my rookie is a 7'1 390lbs giant wrecking machine named Roussimoff, who under my guidance will dominate this competition and prove that he is the only rising star in the IWA, and also tonight Mr. Mexico you have an ass whipping coming courtesy of Perry Jenkins and myself."
*The tron fades as Roussimoff is left grinning in the ring as Mexico and The Crowing head backstage. The crowd goes silent as they anticipate and guess who the next pro will be, all the rookies stare at the tron intensely. Unstoppable by TobyMac hits across the arena and Swagger D walks down to the stage with a series of booings. He is seen holding a microphone by his mouth as the song fades out*
Swagger D: "You didn't expect me to come down did you?"
Crowd: "What?"
Swagger D: "Well, As we all know what happened at Thirst for Power in the International Championship match"
Crowd: "What?"
Swagger D: "So due to Hysteric's absense, I want to make sure that his brother does not go in the wrong hands. So Cody, you will be trained by the biggest force ever in IWA, The Prodigy. Feel lucky, kid while the other 3 have my permission to be jealous"
*Swagger D gives the camera a smirk and waits. Suddenly La Grande V by Rumatera hits the Arena, and the crowd immediately gets on their feet cheering for El Boaro. The new International Champion comes out on the stage with a mic*
El Boaro: "Guys, cut the music please!"
*Music immediately stops, and the crowd begins mumbling, wondering why El Boaro is here.*

El Boaro: "Swagger, if you think that I will let you ruin one of this young men's career, you better change your mind!
*The crowd is caught in surprise, just like Swagger D and Matt Lebleux*

El Boaro: "I don't care if Cody Smith is the Hysteric younger brother... To be honest, that's what prompted me to come out here in Buffalo tonight and tell all the IWA Universe that I will do whatever I can to become his pro, and keep him away from your bad influence!
*The crowd erupts in cheers, as El Boaro stands on the ramp. Suddenly The lights go out in the arena. A spotlight appears on Laura Brand who is standing on the stage. Living In A Dream by Finger Eleven plays through the arena as a series of coloured spotlights creates a terrific lightshow and many changing-coloured Pyrotechnics flash all the way on the Titan Tron Perry Jenkins makes his way to the ring. He walks to get a mic As he is preparing to talk he paces looking at all the rookies and pros*
Perry Jenkins: "Season 3 of IWA I took in two rookies, who had the dream of making it big in this business! Titus Muttley & Ravaging Ron!"
Crowd pops with cheers
Perry Jenkins: "Look at them now, they are two of IWA's biggest stars! Even though I made the mistakes of taking them forganted, I brought out the star talent and molded them into the superstars they are today!"
Perry starts to pace
Perry Jenkins: "In this ring are some "debatable" pro"
Perry looks at Swagger D and Mr. Mexico
Perry Jenkins: "And they're are so people who actually deserve to be called pros!"
*He looks at Earl Lockyer and paces again
He stops pacing and comes face-to-face with Cameron Needs*
Perry Jenkins: "I see some star quality talent in you Cameron. you got the looks and attitude. Hell you remind me a little bit of myself. Cameron, imagine this, being trained by the longest reigning Extreme Division Champion in IWA history!"
*Perry extends his hand waiting for a hand shake
Cameron Needs picks up two beers from the six back by his feet
and hands one to Perry and he takes the mic*
Cameron Needs: "Perry, you gotta deal my brotha!"
Perry and Cameron toast a couple beers as Swagger D shakes his head at Perry and Cameron Needs. He then holds his microphone by his mouth to talk*
Swagger D: "First of all, you are the (censored) superstar in the locker room, Perry. I don't know how you managed to win the Extreme Division title. And lemme tell you something. Lightning does not strike twice at the same place"
*The crowd boos Swagger D. He turns to El Boaro*
Swagger D: "And what the hell you think you're doing here, kid? You got some guts to come out here and do that but you really think you can take away Cody from the Prodigy?"
*Swagger D looks at Cody Smith then back to El Boaro*
Swagger D: "You're pathetic. and you know what else..."
*Swagger D is interrupted*
El Boaro: "Shut up! Nobody here wants to hear your (censored)!!
*Swagger D seems to get furious inside the ring, as the crowd chants "Shut up Swagger!!
El Boaro: "Believe me or not, I want nothing but the best for Cody. You think that that you and your group of losers are the best in IWA?
Swagger D: "You're damn right!!"
El Boaro: "I will give you the chance to prove it! I'm challenging anyone of you wannabes, and the winner of that match is going to be Cody's pro!"
*The fans are now chanting El Boaro's name, while Matt Lebleux and Swagger D are talking inside the ring. Matt Lebleux lifts his mic and looks at El Boaro*
Matt Lebleux: "I don't know if you're ready to mentor someone El Boaro, hell you're practically still a rookie yourself son... but if you're willing to put it all on the line for this rookie then who am I to say no? Now I know a sale when I smell one and this has money written all over it!"
*Matt Lebleux looks at Cody Smith smiling widely*
Matt Lebleux: "You seem to be a hot commodity here tonight Cody, let's hope you're half the entertainer The Hysteric is... or was, because El Boaro."
*Matt Lebleux looks at El Boaro with a half grin*
Matt Lebleux: "Next week you will take on The Hysteric's prodige Cory Atlas in a Lumberjack match in the first match of the first round of the first ever King of IWA Tournament to decide the fate of this young impressionable rookie here."
Ken Comaro: "King of IWA Tournament? What is he talking about?"
Rhys Trebian: "I don't know Ken but I like the sound of it already."
*Matt Lebleux puts his hand down hard on Cody's shoulder and rocks him back and forth while looking at El Boaro*
Matt Lebleux: "And not only will The Prodigy and The Revolution be at ringside as Lumberjacks, but also the International Championship will be on the liiiiiiiine!!"
*Matt Lebleux looks at El Boaro and locks eyes with him awaiting a reply. El Boaro looks at the crowd, who is literally going crazy, with a huge "Yes! Yes! Yes!" chant. He then lifts his belt with pride, looking straight in Lebleux eyes*
El Boaro: "Let's do it !!"
*Then he turns back walking his way to the backstage as the fans erupt in cheers and the Pro's meet their Rookies as the show cuts to commercial*