*The camera pans in to a shot of a 50 inch plasma TV showing the highlights of Meltdown*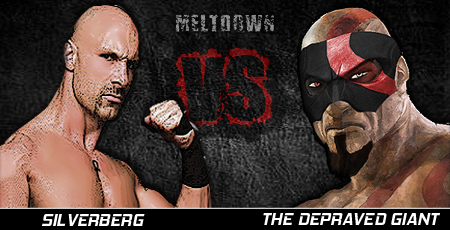 Voiceover: "The tension between two self-proclaimed monster couldn't get any hotter
The undefeated Silverberg will finally face his real test against the giant himself, TDG
And the best thing to do this match is, Falls Count Anywhere.
Tonight, Silverberg, The Depraved Giant, Falls Count Anywhere. Next, only at Meltdown."
SilverBerg charges the arm and smashes his opponents jaw executing ULTIMATE Silver Strike
Ken Comaro: "and the feared Silver Strike connects!!"
*The TV turns off suddenly as Silverberg enters the camera shot*
Silverberg: "You see that, that is what I did to TDG at Meltdown, and yet tonight when I arrived I found myself with a note from the GM, simply saying my opponent tonight will be the man I destroyed at Meltdown. TDG somehow you managed to survive the beating i dealt to you, and for some unknown reason you want to get one again... I really am the only smart monster"
*Silverberg walks out of the room as the camera fades to black*
_______________________
- Former CEO of Magnus Pro Sports & IWA
- 1x International Champion
- 1x Global Tag Champion
- King Of IWA
- 3x Superstar of The Season
- Creator of IWA
- Former General Manager of IWA
- The Most Hated Man in the Company
- Owner of King Bobby Gruesome, Silverberg & Poseidon Magnus