*The cameras cut backstage where Sarah Lane is standing ready with a microphone in hand*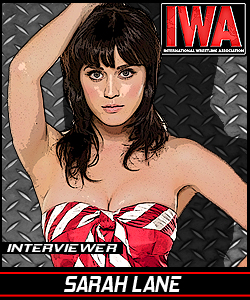 Sarah: "Ladies and gentlemen i am standing here now with the IWA World Heavyweight Champion."
*The crowd cheer as the camera pans over to see Romulus standing next to Sarah wearing a Mexican national soccer jersey*
Sarah: "Romulus, last week you lost your match against Kid A....."
*Sarah is cut off as Romulus holds his hand up in front of her face. He asks her for the microphone and is about to speak but is interrupted by the chants of the crowd that can be heard backstage*
Crowd: "Romulus... Romulus... Romulus... Romulus... Romulus..."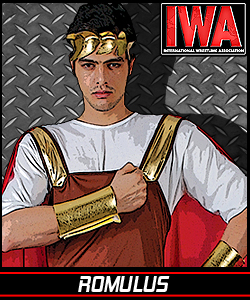 Romulus: "Sarah, lets not dwell to much on what happened last week. See, all that happened last week was that Sean Pain showed us all what a cheap pathetic scum bag he really is. Now, i have been all over this arena tonight looking for Sean or that two bit trick he calls a manager and whaddaya know? Neither of em have been seen. I walked up and down the hallways, i went to the locker rooms, the lunch rooms, i even went to this bar that Mr Mexico was telling me about, but nope, i couldnt find either of em."
*He stares straight down the camera*
Romulus: "Sean, I will find you. You cant hide from me."
*He waits for a second before handing the microphone back to Sarah*
Sarah: "Ok then..... so on to tonights opponent. The Depraved Giant. Another IWA superstar which you have yet to go up against which is rather surprising considering your both IWA Originals. How do you think you'll fair against him?"
Romulus: "Well, lets just say we have both been on different paths here in IWA and its taken this long for them to cross. TDG is a big, strong and dangerous opponent, make no mistake of that. Im not going in there tonight with the normal "I'm the champ" attitude.... tonight, im going to have one of my toughest ever matches to date.... and TDG.... no offence big guy, but tonight, i'm bringing everything i got!"
*The crowd can once again be heard backstage as they cheer on the world champion*
Crowd: "Romulus.... Romulus.... Romulus.... Romulus.... Romulus...."
Romulus: "Tonight, right now, right here, Mexico City, The IWA World Heavyweight Champion, The Depraved Giant, one on one, in a match that will probably go down as one of the greatest matches in IWA history, the energy from the crowd, i can feel it, you can feel it, they can feel it, we all can feel it.... in front of the thousands....."
Crowd: "AND THOUSANDS..."
Romulus: "Of the champs fans i promise you this Sarah Lane, tonight, Mexico City.... your in for a real treat."
*He walks off down towards the curtain area as the cameras cut to the announcers who are ready to call the next match*