*The cameras cut to the arena carpark where a black limousine can be seen pulling in*

*As the cameras get closer the driver can be seen getting out and walking to the back door to open it*

*The IWA World Heavyweight Champion exits the car and holds out a hand inside the car only to reveal that Minerva is with him. As they start to walk to the entrance the cameraman tries to get in a few questions*
Cameraman: "Romulus, have you got anything to say about what happened last week in your match against The Depraved Giant?"
*Romulus doesn't budge and keeps walking*
Cameraman: "What about the interruption caused in your match by Sean Pain? Have you got anything to say about that?"
*Again the world champ ignores the questions and continues towards the entrance*
Cameraman: "Will you be calling him out again tonight? Do you have anything planned?"
*Romulus stares at the cameraman but still walks on as the he tries to ask one final question*
Cameraman: "What about you Minerva? You havnt been since War Games II. Where have you been and why the sudden return?"
*Minerva stops Romulus as she turns to the camerman*
Minerva: "So many questions. All i shall say at this moment is that Romulus requested i return from Italy for business matters. All your other questions will be answered soon enough."
*She turns back around and starts to walk away again*
Cameraman: "Does it have anything to do with Sean Pain and Alice Wonder?"
*This time it is Romulus that stops Minerva*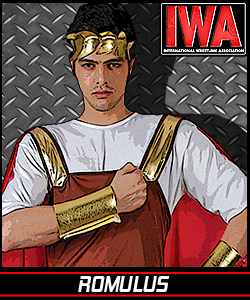 Romulus: "Look, we got a lot of things to do tonight and as Minerva said, all your questions will get answered by the end of tonights show.... ok? Now if you dont mind, its kind of chilly out here and id really like to get inside."
*The cameras fade out as the cameraman backs off as Romulus opens the door for Minerva and then follows through himself*